Safeswap Online is extending its staking pools, giving Retro Doge users the chance to join the newly opened Staking pools on their site. Retro Doge, a Binance Smart Chain-based Play To Earn NFT Game project, has recently announced a staking pool for its native token, $RTDOGE.
Retro Doge, the most recent crypto craze, is a new unity-based coin utilized within a larger ecosystem with significant growth. Moreover, it is a play-to-win, classic arcade-style game with a strong community of retro gaming fans. They are shooting for the stars with NFTS incoming and bigger ambitions in mind.
On May 15, the Retro Doge team introduced the new staking option via their Twitter account. They stated that they have partnered with Safeswap online to offer staking services for Retro Doge holders. So the users can buy more and earn more!
Individuals can stake tokens or coins in exchange for other tokens or currencies on Safe Swap's online staking platform. Safe Swap Online uses this on its site as a service to users and as an alternative to staking cryptocurrency for a longer period. Continue reading the article to learn more about Retro Doge Staking pools on Safeswap online!
What Is SafeSwap Online?
Safeswap Online is a decentralized trading platform that allows users to exchange several currencies concurrently. It's a Smart Contract-based solution that directly works with Metamask, Trust Wallet, and other third-party wallets. On Safe swap's online staking platform, users may stake tokens or currencies in exchange for other tokens or coins.
Safeswap online utilizes this to help customers and as a long-term source of passive revenue from bitcoins staked on its platform. With a strong focus on privacy and autonomy, a low-entry, self-listing switching protocol was required to protect users while also supporting them in attaining their objectives.
What Is Retro Doge?
Retro Doge, formerly known as 8BitDoge, has emerged from the ashes of the 8Bit Doge dream; it is constructed with the blood and sweat of those here who truly want to bring out the best for everybody. Retro Doge is a community-driven Binance Smart Chain currency that has launched recently.
The BSC token's game is themed on the meme character Doge and is made using the Unity engine. They gave it the name Doge, which provides it with a classic look! Retro Doge is an interesting name for a crypto project.
This isn't a typical cryptocurrency token, since the team has the knowledge and resources to pump this exquisitely branded coin fully. The golden 90s, with its SNES systems, arcades, and 16bit games, are a tribute to a time when games were simple, and everything just worked. The Retro Doge NFTs will follow the game's throwback aesthetic. Each has a distinct look and attribute combination, much as previously. There is no real purpose for this token, but it is just made for entertainment and fun. While this token is fun to play with, its liquidity is locked.
Retro Doge Team
Secret Agent Q ( CEO )
TheBlitzMan (Marketing & Brand)
Marco (Lead dev)
Eggsnack (Blockchain Developer)
TRD (Web & Game Design)
Jim (Blockchain Expert)
Dankel25 (Game Design)
Tokenomics
Total supply: 10,000,000,000
Burnt: 7,240,000,000
Tokens in circulation: 2,760,000,000
BUY TAX 7%
2% (Send to staking pool wallet )
2% (Send to liquidity)
1% (Burn)
2% (Tokens sold and BNB sent to marketing)
3% (Send to staking pool wallet)
3% (Send to liquidity)
4% (Tokens sold and BNB sent to marketing)
1% (Burn)
Retro Doge NFT Game
The Retro Doge NFTs will follow the game's vintage concept, with each having a distinct style and feature mixture, much as formerly. The game provides a compelling motivation to play and complete all levels in an attempt to score more tokens and, as a result, get more money!
Retro Doge Staking Pools On Safeswap Online
Retro Doge will start a staking pool on SafeSwap online this Friday. SafeSwap online is proud to be an official staking pool partner in developing a fantastic game. Everyone understands that being a part of a new gem is the most reliable method to multiply your investment by ten times.
Now is your moment to shine. RTDOGE Staking Pool is Live now on Safeswap online. Retro Doge has spent some time making sure everything works as it should, and now that it is, you are invited to join in! Additionally, you now have another way to purchase and trade $RTDOGE.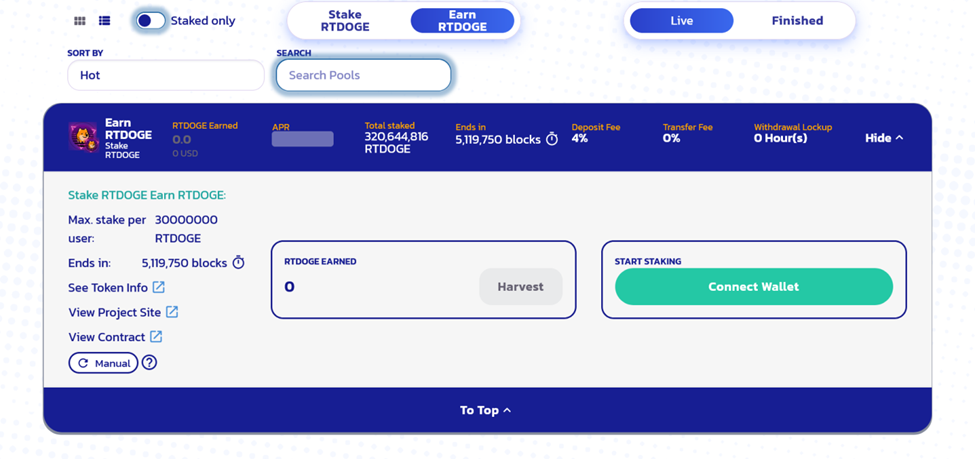 To Get More Information About Retro Doge