Banksy Farm is the first-ever multi-network yield farm to introduce a dual-purpose token for farming & ownership. They opted to leverage a nice feature: dual-purpose token, as part of their implementation of the Kurama protocol. With their Smart NFT, you'll be able to improve your farming. So the wait is over as they are here with the amazing pre-sale of their 3D Smart NFTs!
Their platform's backbone is made up of 3D NFTs. As a result, we want to demonstrate all that can be done with these 3D Smart NFT before their pre-sale. They released 2D Smart NFTs in Version 1. Now, in Version 2, they chose to take NFTs to a new level! 3D which is better than the first version of the NFT itself.
These Smart 3D NFTs entail the production of a token that will serve two primary purposes, such as a token for farming/rewarding and a token of ownership. This platform is always destined to do something bigger. Hence we are looking forward to the beginning of their pre-sale that starts on March 27th, 2022. To learn more about the 3D NFT pre-sale, continue reading the article.
About Banksy Farm
New Generation Multi-Network Yield Farming with NFTs is what Banksy finance is all about. Banksy Farm has high APRs, NFTs, Walls (Dividend Pools), and an Anti-bot Feature. Avalanche was the first network to launch Banksy Farming. Banksy has always been a trailblazer and disruptor. When it came to combining technology with art, he was no exception.
This artist's first NTF was unlike many others. It was unique in that it had to be physically burnt as part of the artwork's sale. The Banksy Farm Team tries to alter the world of NFT for farming by adding extra functionality, in the same manner as the original work. It may be used for a variety of purposes on the platform and admiring the art. And then there's time to come in the future where they will launch features that are better than any other versions.
What Makes Banksy Farm DAO V2 Stand Out Than V1?
They have always talked about their "Community-Owned Project" since the inception of their platform. The notion that will make this concept a reality is presented here.Banksy farm DAO Treasury is a notion that will influence the future of their platform, as presented by their team. This Treasury may be considered a Decentralized Autonomous Treasury because it uses the DAO (Decentralized Autonomous Organization) model.
They named this Treasury DAT. This notion is put into effect through a series of mechanisms created by the Banksy Farm team to automate the collection and distribution of revenues among their community's committed members. In the second version, they have launched the first-ever dual token as follows:
Reward Token — Farming
This currency will be used to reward both pools and farms as part of the platform's farm initiative. You'll be able to stake on any pool or offer liquidity to any farm. Your winnings will be paid out in Banksy DAO tokens. But there's a new twist: if you hold/stake, you'll receive USDC! To find out how to keep reading. As a Farmer, you'll be rewarded with steady farming of local tokens.
Token Of Ownership
Establishing an ownership token is one of the Kurama Protocol's best features. With this token, you'll be able to earn USDC from the pool that receives revenues from the Distributed Autonomous Treasury. When the platform charges a fee for a deposit or other service, a portion of the cost goes to the "Owner's Pool" and is divided among token stakers.
You may increase your profits by using your NFTs.You can increase your benefits in the Owner's Pool by staking NFT artwork. Until the end of this version, you will earn bigger ownership rewards.
Road Map Of Banksy Farm Treasury DAO V2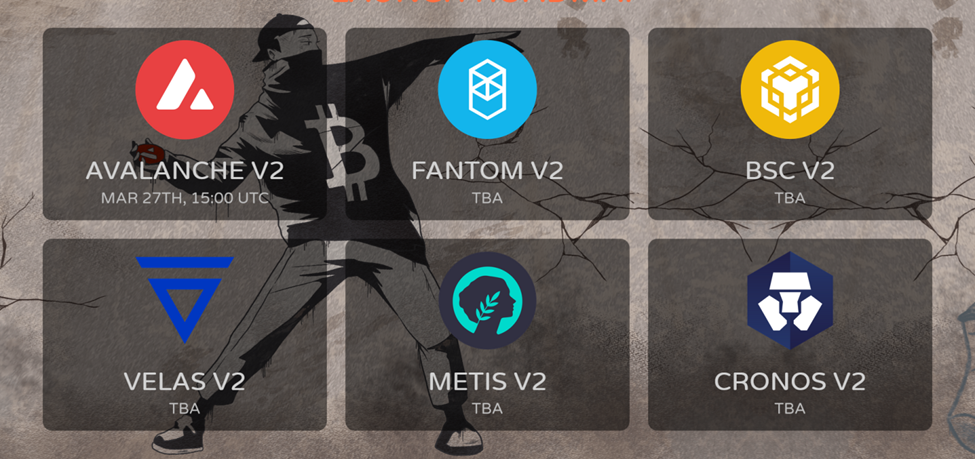 Pre-sale Dates Of Banksy Farm V2
Presale Starts: March 27th – 15:00 UTC
NFT Sale Starts: March 27th – 17:00 UTC
Presale Ends: March 30th – 15:00 UTC
Initial Liquidity Provided by Contract: March 31st – 15:00 UTC
Swap Presale Token: March 31st – 16:00 UTC
Farming Starts: April 3rd – 15:00 UTC
Presale Financial Data
Presale Prices
During the early access in the first 24 hours for $20 and in the second stage of early access during the second 24hours, the price is $23.In the last 24 hours of the pre-sale, the token will be for $25.The Total Raised Goal is $150,000, and the market cap is $10,000. In case all the tokens are sold out, the Initial Liquidity will be $15,000.
Allocation Of Presale Funds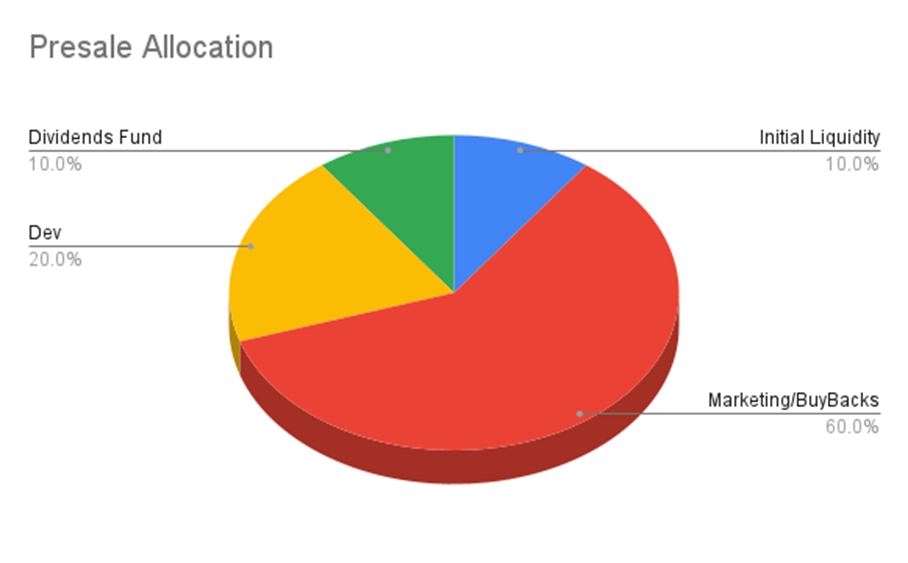 Initial Liquidity 10%
Marketing/Buybacks 60%
Dev. Salaries 20%
Dividends Fund – Walls 10%
Presale Token Info
Ticker: PreBanksyDAO
Contract Address : 0xbdF05B5669E81461185cc35072F6a61BBe370C4b
Blockchain: Avalanche
Maximum Supply: 7,500
Pre-Sale Of Smart NFT
They choose a Presale Strategy for this cryptocurrency launch. This is the most effective technique to increase liquidity. To ensure security, they use their Anti-Bot System during the pre-sale. The pre-sale starts on March 27th, 2022. You will be able to redeem USDC if you participate in the USDC pre-sale.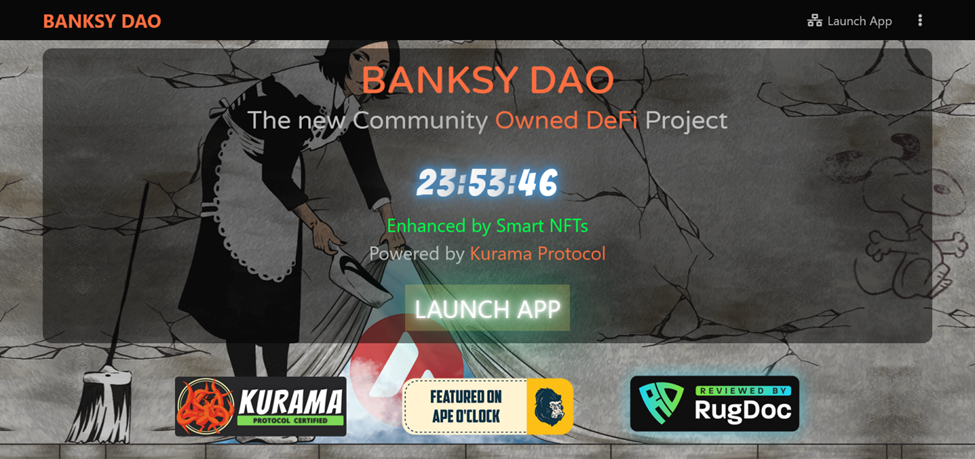 What Are The Benefits Of 3D Smart NFTs?
· Boost your earnings:
Choose your NFT from the pool to earn extra goodies! Farming yields and walls should be improved. Your staking amount is increased when you pick your NFT in any pool or wall. In that pool, you obtain a higher prize.
· Acquire experience:
Your NFT will get more "experience" skills each time you utilize one of your pools, farms, or barriers. This enables the creation of a more powerful NFT. Better incomes equal more clout in the voting booth.
· Reduce Harvest Lockup:
Harvest incarceration should be reduced. When you choose an NFT in a pool, you will be able to harvest your winnings sooner. You'll be able to benefit more quickly.
· Voting:
Vote on how the government should be run. Your vote will have greater weight in their results pools, thanks to their NFTs.Your vote will have an even greater impact.
3D Smart NFT Funds Allocation
The 3D Smart NFT can be used to vote, gamble, boost your farming and is a new experience for those seeking to earn through NFTs.Before the pre-sale of each token, there is a list designed for allocation of all the funds.25% of the deposit fees from Banksy Treasury DAO V2 is allocated for farming and ownership token through this:
25% of the deposit fee can be earned as an owner in USD.
Farming becomes stable.
Native rewards Given.
The rest, 75% of the funds are allocated for walls, marketing, partnerships, and development.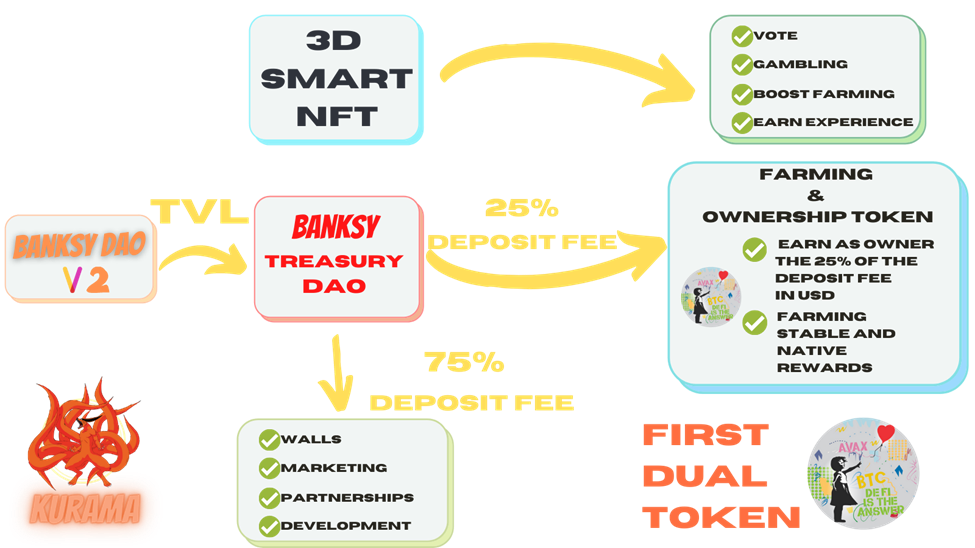 How To Get In Contact?